FOR IMMEDIATE RELEASE
USAC WEST COAST 360 SPRINT CAR SERIES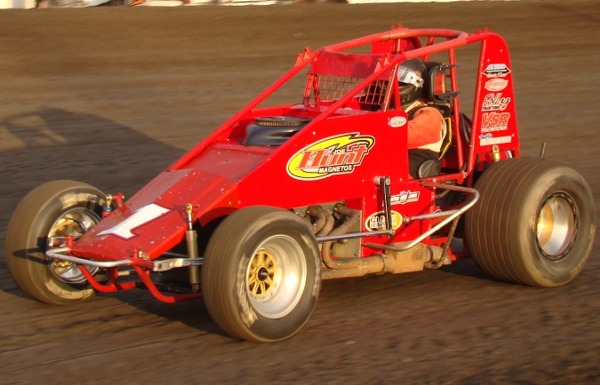 #1 Terry Schank Jr. at Giant Chevrolet Speedway. Photo by Lance Jennings.
TERRY SCHANK JR. CLAIMS WINGLESS COTTON CLASSIC
By Lance Jennings
HANFORD, CA – OCTOBER 19, 2010… In his first start with the USAC West Coast 360 Sprint Car Series, Santa Rosa's Terry Schank Jr. won the non-winged feature of the "25th Annual Cotton Classic." With the victory at Hanford's Giant Chevrolet Kings Speedway, Schank became the thirteenth different driver to win in twenty-one races during the 2010 season.
Hanford's Jonathan Logan and Cody Myers of Browns Valley shared the front row of the 30-lap main event. As starter Willie Williams' waved the green flag, it was a drag race into turn one. Myers grabbed the lead, with Logan, Terry Schank Jr., Wes Gutierrez, Peter Murphy, and Craig Stidham close behind. As the main event began to unfold, Myers began to pull away from the field with Logan giving chase. Gutierrez took third away from Schank and began to charge after the leaders.
On the sixth circuit, Myers spun to a stop in between turns one and two, bringing out the yellow flag. This handed the lead to Jonathan Logan as the Myers crew made repairs in the work area. On the restart, the former SCRA 360 champion could not shake free from Gutierrez, but maintained command. Schank, Murphy, Stidham, Jeff Gardner, and Danny Faria Jr. were tucked close behind. The battle for the lead began to tighten up on the Hanford clay oval and Gutierrez powered by Logan on the eleventh lap.
Once out front, Wes Gutierrez began to extend his lead over Schank, Murphy, Logan, Stidham, and Faria. Murphy pressured Shank for second while Logan had his hands full with Stidham and Faria for the fourth spot. Gutierrez was cruising to nearly a straightaway lead as he reached slower traffic. Unfortunately for the leader, contact with a slower car resulted in a Gutierrez spin just before the flag stand on lap eighteen.
Terry Schank Jr. inherited the lead and made the most of the opportunity. Second place Peter Murphy mounted several challenges at Schank, but the leader held strong. A hard charging Danny Faria Jr. now threatened Murphy for second. As the two veteran drivers battled for several laps, this allowed Schank to gain some breathing room. After several laps, Murphy was able to break free from Faria and chased after the leader. Murphy closed the gap, but at the checkered flag, it was Terry Schank Jr., followed by Peter Murphy, Danny Faria Jr., Jonathan Logan, and Richard VanderWeerd.
Driving the #1 Roger Gleason owned Joe Hunt Magnetos / Van Lare Steering Repair Maxim, Schank was ninth quick in time trials and won the Extreme Mufflers / Keizer Wheels Heat Race #1. The Marysville and Chico Wingless Spec Sprint track champion was fourth in the six-lap dash and claimed the feature win in his carbureted machine. In victory lane, a happy Terry Schank Jr. remarked, "It's my first time back at Kings in a long time. Man, when you see the 21 and the 2 on the scoreboard you better run like hell."
Clovis' Peter Murphy scored his fourteenth top-10 performance of the year with his runner-up finish. Driving the pink #21 Tarlton & Son Inc. / Tachi Palace & Casino "Breast Cancer Awareness" KPC, Murphy posted second quick time in qualifications, but was deemed too light at the scales. Murphy rebounded with a second place finish in his heat race and charged to second in the feature after starting tenth.
After finishing third, Tipton's "Hollywood" Danny Faria Jr. earned his second King Racing Products Hard Charger Award of 2010. Making his first start in the #2 Junior Bowman / Buster & Ziggy Enterprise Bullet, Faria was fifth quick on the night and recorded an eighth place finish in his heat race. Starting twelfth in the feature, Danny fought hard to earn a podium finish.
Hanford's Jonathan Logan earned his sixth top-10 finish of the season with a fourth place run. Piloting the #32 KB Chassis / Mike Downing Racing Engines entry, Logan was sixth quick in time trials, finished second in his heat race to Craig Stidham, and won the 6-lap Competition Suspension Inc. Dash. The seasoned veteran led a portion of the feature before falling to Wes Gutierrez.
Visalia's Richard VanderWeerd came home fifth after starting eleventh in the main event. Driving the #10 VanderWeerd Construction / Mid Valley Pipe & Supply Maxim, VanderWeerd was third quick in time trials and was involved in a tangle in his heat race, resulting in a ninth place finish. Tulare's "Sprinting For The Cure" winner ends the season with fifteen top-10 finishes.
Another driver making his first start with the USAC West Coast 360 Sprint Car Series was Auburn's Andy Forsberg. Piloting the #92 Forsberg Racing / A&A Stepping Stone XXX, Forsberg earned the Sander Engineering Fast Time Award. The California Civil War Sprint Car Series champion was fourth in his heat race and sixth in the dash. After battling brake problems, Forsberg retired early from the main event with a seventeenth place finish.
Fresno's Craig Stidham won the 10-lap BR Motorsports / Saldana Racing Products Heat Race #2. Driving the #3S Brad Johnson Trucking / KRC Safety TCR, Stidham was twelfth quick in time trials and retired early from the feature with a fourteenth place finish. The 2010 USAC West Coast 360 Sprint Car champion ends the season with a series leading 10 heat race victories to his credit.
After a wild flip in his heat race, Visalia's Jace VanderWeerd earned the Keizer Wheels Hard Luck Award. VanderWeerd drove the #88 VanderWeerd Construction / Mid Valley Pipe & Supply Maxim to second quick in time trials. While battling for position in his heat race, VanderWeerd flipped his machine. The car suffered heavy damage and Jace was done for the night.
The USAC West Coast 360 Sprint Car Series would like to thank Southwest Contractors, Hoosier Tire, Amsoil, BR Motorsports, Competition Suspension Inc., Cory Kruseman's Sprint Car & Midget Driving School, Crow Enterprizes, DJ Safety, Extreme Mufflers, Hilborn Fuel Injection, Hinchman-Indy Racing Uniforms, Integra Shocks, Kaeding Performance, Keizer Wheels, King Racing Products, Kirkey Racing Fabrication, Port City Racing, Saferacer.com, Saldana Racing Products, and Sander Engineering for their support.
For more information on the USAC West Coast 360 Sprint Car Series, please visit westcoastsprintcars.com, usacracing.com, racesantamariaspeedway.com, or follow the series on facebook.
--------------------------------------------------------
USAC WEST COAST 360 SPRINT (SPECIAL EVENT) RACE RESULTS:
Giant Chevrolet Kings Speedway - Hanford, California
October 16, 2010 - Race #21 - "Cotton Classic"
SANDER ENGINEERING TIME TRIALS:
1. Andy Forsberg, 92, Forsberg-15.555; 2. Jace VanderWeerd, 88, VanderWeerd-15.769; 3. Richard VanderWeerd, 10, VanderWeerd-15.891; 4. Wes Gutierrez, 007, WG-15.974; 5. Danny Faria Jr., 2, Bowman-15.983; 6. Jonathan Logan, 32, Evett/Logan-16.297; 7. Cody Myers, 9, Myers-16.337; 8. Jeff Gardner, 51T, Revcon-16.359; 9. Terry Schank Jr., 1, Gleason-16.368; 10. Ricky Kirkbride, 87, Van Meter-16.378; 11. Jim Richardson, 8, Richardson-16.499; 12. Craig Stidham, 3S, Stidham-16.531; 13. Kevin Barnes, 36B, Barnes-16.588; 14. Scott Kinney, 25K, Kinney-17.091; 15. Adam Frith-Smith, 62, Frith-Smith-17.156; 16. John Iturriria, 27, Iturriria-17.423; 17. Peter Murphy, 21, Tarlton-NT; 18. Jerry Wise Jr., 23, Wise-NT.
EXTREME MUFFLERS / KEIZER WHEELS HEAT RACE 1: (10 laps)
1. Terry Schank Jr., 2. Peter Murphy, 3. Cody Myers, 4. Andy Forsberg, 5. Adam Frith-Smith, 6. Kevin Barnes, 7. Jim Richardson, 8. Danny Faria Jr., 9. Richard VanderWeerd. NT.
BR MOTORSPORTS / SALDANA RACING PRODUCTS HEAT RACE 2: (10 laps)
1. Craig Stidham, 2. Jonathan Logan, 3. Wes Gutierrez, 4. Ricky Kirkbride, 5. Jeff Gardner, 6. Scott Kinney, 7. John Iturriria, 8. Jace VanderWeerd. NT.
COMPETITION SUSPENSION INC. DASH: (6 laps)
1. Jonathan Logan, 2. Cody Myers, 3. Wes Gutierrez, 4. Terry Schank Jr., 5. Jeff Gardner, 6. Andy Forsberg. NT.
FEATURE: (30 laps - With Starting Positions)
1. Terry Schank Jr. (4th), 2. Peter Murphy (10th), 3. Danny Faria Jr. (12th), 4. Jonathan Logan (1st), 5. Richard VanderWeerd (11th), 6. Jeff Gardner (5th), 7. Kevin Barnes (14th), 8. Ricky Kirkbride (7th), 9. Scott Kinney (15th), 10. Wes Gutierrez (3rd), 11. Jim Richardson (13th), 12. John Iturriria (16th), 13. Jerry Wise Jr. (17th), 14. Craig Stidham (8th), 15. Adam Frith-Smith (9th), 16. Cody Myers (2nd), 17. Andy Forsberg (6th). NT.
------------------------------
**Jace VanderWeerd flipped during the second heat.
FEATURE LAP LEADERS:
Laps 1-6 Cody Myers, Laps 7-10 Jonathan Logan, Laps 11-18 Wes Gutierrez, Laps 19-30 Terry Schank Jr.
KING RACING PRODUCTS HARD CHARGER: Danny Faria Jr. (12th to 3rd)