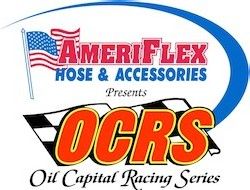 Ameri-Flex / OCRS Sprints Head Southwest
John Lemon
OCRS Public Relations
Tulsa Okla. (June 13, 2017) - The Ameri-Flex / OCRS sprint car series is set to make another attempt to visit the famed Lawton Speedway this Saturday night. This is a rescheduled date due to excessive wet grounds caused when weather related issues forced a postponement of the June 3rd date. The series opened the season at the speedway with Alex Sewell taking the first trophy of the new season. USRA Modifieds, Limited Modifieds and Wingless Limited Sprints will also be in action this weekend.
Rose Oklahoma's Jamie Passmore swept the Memorial Holiday weekend events the last time the winged sprinters saw action. Current point leader Shane Sellers of Tuttle Oklahoma is the one other driver with a victory thus far into the season. Sellers lead is slim as Zach Chappell sits just 33 markers behind (390-357) while Mickey Walker is third with 343 points. Just a scant 9 point separate positions 4-7 in the standings with Whit Gastineau, Sheldon Barksdale, Cameron Hagin & Alex Sewell holding the next spots. Completing the current top ten are: Johnny Kent, Jamie Passmore & Shayla Waddell.
Some of the Champ Sprint regulars form Lawton Speedway expected to compete in the event include: Shawn Bloomquist (current point leader), Brandon Jennings, Kyle Ezell, Joe Bob Lee, Morgan Fletcher, TJ Herrell, Nick Bates, Gary Owens & Mike Baker to name a few. There hasn't been a driver to win 2 Ameri-Flex / OCRS races in a season at Lawton Speedway since Kyle Cobb accomplished the feat in 2011.
NUTZ n' BOLTZ
And.... They're Off - Well, Kind Of
The 2017 Ameri-Flex / OCRS racing season is having a challenging time getting going and it's a widespread problem in the sport primarily due to the rainy spring weather. The series has just 4 races completed prior to June 20th's event at the Lawton Speedway. The last time anything like that happened was in 2011 when 6 events were held by the 20th day of the June. The average since 2010 is nine. There are other series within the region that have as little as 2 events in the books over the same period. Going to be a lot of make up racing going on this summer in and around the region.
Lot A Trouble To Double
2010 was the first time the Ameri-Flex / OCRS series graced Lawton soil. Since then, there have been 11 different winners at Lawton. Only 2 have repeated, Kyle Cobb (Both in 2011) and Robert Sellers (2015 & 2016). The other pilots that have won on the red clay oval are: Whit Gastineau (2010), Danny Smith (2010), Harli White (2013), Alex DeCamp (2014), Sean McClelland & Cody Wampler (2015), Sheldon Barksdale, Gary Owens (2016) and Alex Sewell (April 2017).
Down But Not Out
2-time defending champion Robert Sellers is in a hole. A deep hole. After missing the doubleheader weekend events over Memorial Day weekend, Sellers is mired back in the 18th spot in the point standings. If Sellers can finish the season without another absence, finish all the feature races and have his peers have experience a hiccup or two along the way, Sellers could be in the hunt for title number three. Time for some racing magic. Let's see if the rabbit in the hat comes out.
Wanna Play A Game
The $3000 the win / $1000 to start Ameri-Flex / Challenge II presented by Grand National Trailer that is slated for the Salina Highbanks is just a handful of weeks away (August 26th). The purse is guaranteed and multiple associate sponsors such as: Drive Shafts Inc, Maxim Racing, Schoenfeld Headers, Smiley's Racing Products, Amsoil, Rod End Supply and H&R Block have signed on to play. If you would like to play along with us on this special event, now is the time to get your game pieces. Contact John Lemon at (918) 850.5341
What you need to know for this Saturday's program:
What: Ameri-Flex / OCRS Sprint Cars (with support classes)
When: Saturday June 17, 2017
Where: Lawton Speedway, Lawton, Oklahoma
Time: Pit Gates open at 6:00pm / Hot Laps 8pm / Races Start at 8:30pm / (Ameri-Flex/OCRS Drivers Meeting @ 7:30pm)
Phone: (580) 355-6417
Website: www.lawtonspeedway.com
Track location:
Take Interstate 44 to Lee Boulevard. Go west onto Lee Boulevard to Sheridan Road. Turn south (left) and go 1.5 miles to the racetrack.
If coming from the south of Lawton:
Exit Highway 36 and take the Faxon exit. Go north onto Sheridan Road. Racetrack will be approx. 5 miles.
About the Ameri-Flex / OCRS Series -
Established in 2002, the Tulsa OK based Ameri-Flex / OCRS series sanctions dirt track sprint car racing in the southern region of the central plains. Fan appeal and quality race teams, combined with our solid core of supporting sponsors are the nucleus of the series. Thrilling competition providing the ultimate quality family entertainment is the essence of what the Ameri-Flex / OCRS series is all about.
Website: www.ocrsracing.net
Facebook: www.facebook.com/oil.series
About Ameri-Flex Hose & Accessories -
Located in Tulsa OK, Ameri-Flex Hose & Accessories is a family owned and operated company. From food grade hose to hoses for the petroleum industry, Ameri-Flex will strive to fill your needs. Ameri-Flex can build a hose to your specifications or they will assist you in creating what you have designed while you wait. Ameri-Flex has several hard to find items that some vendors can't get or find. Product can be shipped quickly and efficiently. If they do not have what you are looking for, they will direct you on where to find it. Give then a try, after all…………..
Ameri-Flex Has The Stuff That Keeps You Going!
Website: www.ameriflexhose.com