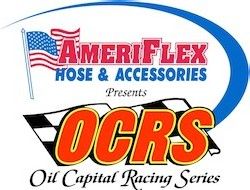 Harold Leep Classic Presented by Carter - Maxwell Saturday
Sprint Car Mania - Sunday
John Lemon
OCRS Public Relations
Tulsa Okla. (May 23, 2017)- The Ameri-Flex / OCRS sprint cars are set for a huge racing weekend with two large events looming for the winged sprinters over the Memorial Day Weekend. Saturday's tour stop will be at the 1/4-mile bullring of the Caney Valley Speedway in Caney Kansas for the 3rd Annual Harold Leep Classic presented by Carter - Maxwell and then on Sunday, the open wheel warriors travel northwest to the 3/8-mile 81 Speedway in Park City Kansas for a special all sprint car show tabbed "Sprint Car Mania". This event will comprise of three completely separate classes of sprint cars that is sure to produce a very exciting and entertaining show as each class will run full programs of heats and features.
Some of the best that the Ameri-Flex / OCRS series has to offer will be in competition this weekend including Shane Sellers who currently leads the point standings after 2 events have been written into the books. Sellers will have company with drivers such as Zach Chappell, Whit Gastineau, Alex Sewell, Shayla Waddell, Sheldon Barksdale, Andrew Deal, Sean McClelland, Brian McClelland, Mickey Walker, Johnny Kent, Tim Kent, Danny Smith, Casey Wills, Joseph Miller and Cameron Hagin along with a gang of other contenders.
For the Leep Classic event, there is an excess of $3200 on the table by the way of "Lap Money". As with previous Leep Classic events, This added cash has been donated by various types of sponsors. Should a driver sweep all the available cash awards offered for the evening, the take would be over $3100 with bonus cash also being dispersed throughout multiple other positions. Thanks in large part to Ameri-Flex Hose & Accessories and our racetrack partners, the OCRS series is the best value in the region.
Saturday night will also be the 2017 season opener for the Caney Valley Speedway after Mother Nature disrupted previous attempts to get the season started. After speaking with promoter Kerry Gorby, Caney Valley is excited to have the Harold Leep Classic as its season opener and a great show in anticipated.
The Leep Classic lap sponsors are:
National Sprint Car Hall of Fame, Broncho Courier, Sewell Mechanical, T-Clark Enterprises, TS Construction, H&R Block
Coyote Automotive, Crocker (Farmers) Insurance, Action Auto Collision, Arrowhead Electric, Broken Arrow Lawn & Garden
Barksdale Overhead Door, Caeli's Sweets Eats & Bar, ASCS Red River Region, Grass King Lawn Care
ATC Insurance Solutions, EMTEC Pest Control, Chinowth & Cohen Realtors, Grand National Trailer
Tribute to American Armed Forces, Tribute to Ofixco Racing Team and a Tribute to the.... FANS
Laps are also sponsored In Memory of Jonathan Isaacs and In Memory of Allen Couch
Race fans Jerry Medlin & Greg Shields have also sponsored laps.
Caney Valley Speedway Docket:
What: Harold Leep Classic presented by Carter - Maxwell
Where: Caney Valley Speedway / Caney Kansas
When: Saturday May 27, 2017
Time: Gates open at 4p / Hot laps 6:30p / Racing at 7p (OCRS drivers meeting at 5:45p)
Tickets: $15 (13yrs & up) / $5 (7-12yrs & Seniors) / 6 & under (FREE) / Pit Pass: $35
Track Phone: (620) 330-0485
Track website: www.caneyvalleyspeedway.net
Track Location:
The track is just 1/2-mile west of the junction (intersection) of US 75 and US 166 on CR 1600.
For the Sprint car Mania event, this special night featuring three different sprint car classes is a dream show coming true for open wheel fanatics. It seems fitting since the biggest open wheel race in the world, the Indianapolis 500, is earlier in the day. The three groups of sprints that will perform are: Ameri-Flex / OCRS 360 sprints, the NCRA 360 sprints and the URSS 305 sprints with the SSO 305 sprints joining this class for the evening.
C. Ray Hall and his staff have a solid reputation for running a timely program while producing a festive atmosphere for all ages to enjoy. 81 Speedway has a long rich history and the Ameri-Flex / OCRS series is honored to be invited to perform at such a historic facility. The last time the Ameri-Flex / OCRS series graced 81 soil was in October of 2009 where Moore Oklahoma's Frank Dittman took checkers. It has been a long 8 years since and the teams are anxious for their return.
81 Speedway Docket:
What: 'Sprint Car Mania' Featuring the sprint cars of Ameri-Flex / OCRS, NCRA and URSS / SSO
Where: 81 Speedway / Park City Kansas
When: Sunday May 28th, 2017
Time: Main Gates open at 5p / Hot Laps 6p / Racing at 7p (Pit Gates open all day) OCRS Drivers Meeting @ 5:30pm
Tickets: $20 (12yrs and up) / $18 (Seniors & Military) / 11yrs and under (FREE) / Pit Pass $30
Track Phone: (316) 755.1781
Track website: www.race81speedway.com
Track Location:
81 Speedway sits just 1/2-mile west of I-135 at Exit 16.
Its going to be a fantastic weekend of Ameri-Flex / OCRS sprint car racing. We will see you at the racetracks!
About the Ameri-Flex / OCRS Series -
Established in 2002, the Tulsa OK based Ameri-Flex / OCRS series sanctions dirt track sprint car racing in the southern region of the central plains. Fan appeal and quality race teams, combined with our solid core of supporting sponsors are the nucleus of the series. Thrilling competition providing the ultimate quality family entertainment is the essence of what the Ameri-Flex / OCRS series is all about.
Website: www.ocrsracing.net
Facebook: www.facebook.com/oil.series
About Ameri-Flex Hose & Accessories -
Located in Tulsa OK, Ameri-Flex Hose & Accessories is a family owned and operated company. From food grade hose to hoses for the petroleum industry, Ameri-Flex will strive to fill your needs. Ameri-Flex can build a hose to your specifications or we will assist you in creating what you have designed while you wait. Ameri-Flex has several hard to find items that some vendors can't get or find. Product can be shipped quickly and efficiently. If we do not have what you are looking for, we will direct you on where to find it. Give us a try, after all…………..
Ameri-Flex Has The Stuff That Keeps You Going!
Website: www.ameriflexhose.com