IT'S WORLD of OUTLAWS SPRINT CAR SERIES *RACE DAY* at LONESTAR SPEEDWAY! FRIDAY, MARCH 3rd, 7pm! 70° & DRY!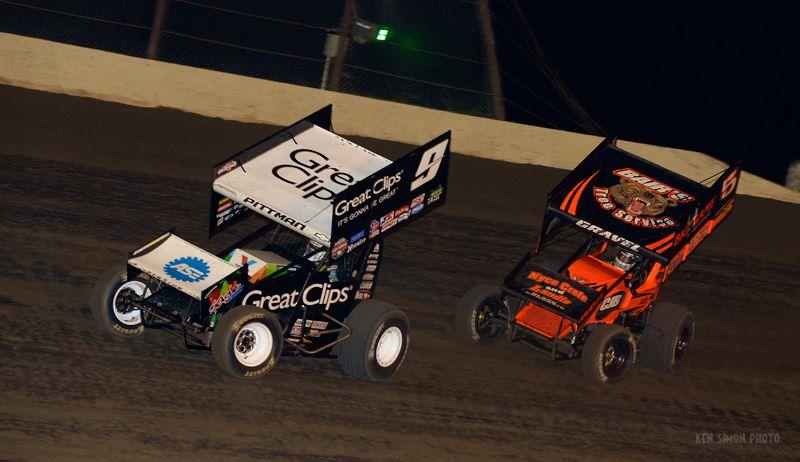 Kilgore, TX (3/3/17) by DarinShort.com. Here's all the ticketing information and details you need to maximize the fun you'll have at LoneStar Speedway TONIGHT:

TICKETS ON SALE by clicking www.LoneStarSpeedway.com at the link within the top post on the home page.

LoneStar Speedway, high banked 1/3 mile clay oval:

3131 Farm to Market Rd 1252 E
Kilgore, TX 75662
Race Day Phone: 903-986-9731
www.LoneStarSpeedway.com
www.Facebook.com/LoneStarSpeedway

Directions: Take exit 583 off I-20 and go north about 1/2 mile to the stoplights. Turn east (right) at the stoplight then continue about 1 mile to the track entrance on the south (right) side of the road. The pit entrance will be directly ahead of you, while the main grandstand area road leads you around to the west side of the property, by taking a right at the sign saying 'grandstand entrance'.

Ticket Prices (on race day or online):

Reserved: $39
Reserved 14 & Under: $20
GA Adult: $35
GA Ages 14 & Under: FREE
Pit Pass: $40, all ages (completed minor's release form required for all ages under 18 )

Buy tickets online at:

...or call 844-DIRT-TIX (844-347-8849)

Friday March 3rd Schedule:

Tickets & Will Call: 1 PM CT
Pit Gate: 1 PM CT
Grandstands: 4 PM CT

Approximate event times:

Hot Laps: 6:30 PM CT, Time Trials 7:00PM CT

Opening Ceremonies: 7:30 PM CT

SUPPORT DIVISION LIMITED MODIFIED FEATURE PAYBACK: $700 - $400 - $300 - $220 - $200 (5th) - $180 - $160 - $140 - $120 - $100 - $80 - $60...to 20th. All Limited Modified NQ's or Non-Starters $30. Division rules posted at track website.

Today's race day forecast is showing 70°, sunny, light breeze and no precip is expected.

A complete range of hot food, cold drinks, including beer are available for purchase in the main grandstand concourse area.

No outside food/drink are allowed through the main grandstand entrance. It is OK for fans to tailgate in the parking lot as long as they clean up their space afterwards.

Thanks to all of you that have already purchased your event tickets, and we look forward to seeing you TONIGHT at LoneStar Speedway for the GREATEST SHOW ON DIRT - the World of Outlaws Craftsman Sprint Car Series!

LIVE VIDEO of the WORLD of OUTLAWS Craftsman Sprint Car Series pit area at LoneStar Speedway, as of 3:15pm...RACES TONIGHT at 7pm, DON'T MISS TONIGHT'S HUGE RACE as the BEST ON DIRT take on the LONESTAR HIGH BANKS!